Challenging environment for progress
The Research Program update for September 2021 can be viewed as a video. Read the full report below for more detail.
With the ongoing pandemic and accompanying lockdowns and restrictions, it has continued to be a challenging environment in which to make progress in the research program since we last reported six months ago.
The Foundation Committee has reached a decision to not approve expenditure for the phase 1 clinical trial at this stage. Here is how that decision came about. An estimate of likely costs for the phase 1 trial of safety and tolerability at the start of the year was approx. $300,000. Expectations for planning and funding the trial were based on that figure. Once drug supply for the phase 1 trial had been secured, quotes for the 8 major types of supplies and services needed for the conduct of the phase I trial were then obtained mid-year. Where feasible, two quotes were sought for the discrete bundles of goods and services required. The total price tag came as a shock, being over $800,000 (although that may be able to be pared down to around $600,000 with careful scrutiny and negotiation).
This put any discussion or decision to proceed with the phase 1 trial in a quite different light. Behind this huge cost blowout are a couple of things. There is high demand from biotech companies worldwide to have early phase clinical trials done in Australia, given the relatively low impact that the pandemic has had here compared with other countries. Another factor is the significant redirection of both healthcare and medical research resources, in both private and public sectors, towards the pandemic control effort. These two realities combined have resulted in increased time and cost pressures for people like us seeking clinical trial implementation. Even if we were prepared to pay the price, there is no guaranteed start date for a clinical trial, given that there is already a queue of organisations waiting. The unpredictability of the pandemic is another factor disrupting clinical trials, with the restrictions on having people at hospital or clinic locations, especially given their role in caring for the sickest of the sick with COVID-19, making hospitals the hottest of hot spots and the restrictions entirely warranted.
The vastly increased pricing for the clinical trial means that the level of evidence required to support proceeding, needs to be revisited, as does the due diligence that should be conducted. The standards required for both go up significantly to justify such expenditure.
There is another vital consideration that must be looked at simultaneously. There can be no thought of funding just a phase 1 trial by itself. In a nutshell, what we get from a phase I trial is just the answer to the question whether or not the drug is safe enough to proceed with, nothing more. Planning and funding to cover the next step, a phase IIa trial, where a preliminary assessment of treatment effectiveness is made, needs to be considered as well. It would be irresponsible to fund and implement the phase I trial if the Foundation has not secured funding for both phases I and IIa. Given the recent escalation in costs for the phase 1 trial, the pricing for a phase IIa trial is sure to have blown out as well.
For now, more due diligence and testing of evidence supportive of proceeding to clinical trials with the candidate drug are being undertaken. When there is more clarity and certainty about the future with respect to the course of the pandemic and predictable impacts on the clinical trial sector, it is to be hoped that getting clinical trials conducted will be easier and cheaper than currently.
Biomarker development success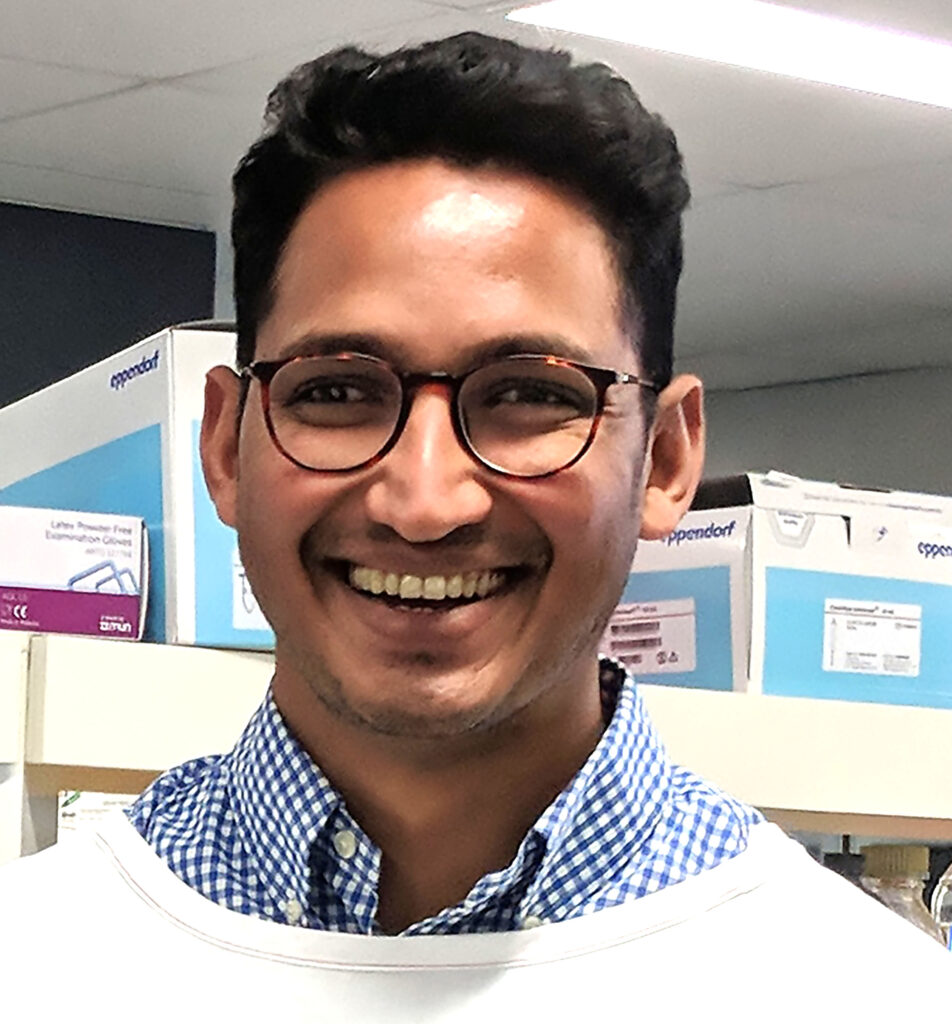 The biomarker that has been in development by Dr Gautam Wali for the past three years in Professor Carolyn Sue's laboratory at the Kolling Institute in Sydney, successfully reflects drug treatment effect and can be used with confidence in clinical trials. More detail below …
Biomarker can identify Noscapine induced biological changes in human blood cells
Blood samples from 8 healthy people were treated in the laboratory dish with Noscapine. Biomarker levels were measured in untreated and in treated blood samples at various intervals after treatment. The treatment increased the biomarker level by a maximum of 50% – a highly statistically significant difference – with the peak reading obtained one hour after treatment. The results show that changes in biomarker levels can be successfully measured at different time points after treatment. The results also provide data that supports taking blood samples one hour after treatment in clinical trials.
Biomarker tested using mice brain samples
The brain tissue samples of the mice used in the second dose range-finding study at TetraQ were received and analysed for biomarker levels during March using the high throughput assay in development. As an important milestone, there was strong correlation across these samples between the respective levels of the drug and the biomarker. Levels of the biomarker measured in the mice brains with higher doses were significantly higher statistically than the biomarker levels in the untreated mice brains.
These findings are further supportive of determining if similar effects on biomarker levels are found in people with HSP in clinical drug trials, and beyond that, if biomarker levels relate to drug treatment effectiveness shown as improved clinical outcomes such as improved mobility, reduced spasticity and so on.
High throughput assay now fully validated
The consistency of readings across sample groupings enhances the validation of the high throughput assay for the biomarker, meaning that it can be used with confidence in clinical trials. This is also a major milestone, as the high throughput assay is vital for reliable, consistent analytical results. The manual analysis alternative that it replaced served its initial purpose in early laboratory work, but is impractical and too highly variable to use in clinical trials.
Cell Morphomics initiative
This initiative has advanced significantly over the last six months since we reported in the last update on the initial experimental data using the skin cell (fibroblast) with a view to creating a biomarker for HSP diagnosis and drug testing. The approach combines machine learning and high-content microscopy image analysis and is potentially applicable to many neurodegenerative diseases, not just HSP.
Dr Wali has had a scientific paper published in one of the prestigious Nature journals in mid-August. Dr. Wali has used skin cells to tell the difference between SPG4 and SPG7 forms of HSP without genetic testing. Using morphomics (machine learning to analyse more than 100 physical features of the skin cells) accurate diagnosis was achieved.
When treated with Noscapine, cell morphology changed differently between the two types of HSP, as expected. This technology also holds potential for biomarker development, drug discovery and as a way of classifying participants for clinical trials.
It is also worth noting that all this can be achieved from a skin cell sample with no need for blood, neural tissue or genetic testing. This is not only easier and more convenient for people with HSP, but may also help with the problem of at least 40% of gene testing currently failing to identify the responsible mutation. Read more …
Prof Alan Mackay-Sim
Prof Alan Mackay-Sim AM, Principal Investigator of this Foundation's HSP Research Program, was recently honoured with membership of the Order of Australia.
The award adds to a litany of recognition at the highest level of Alan's skills and achievements over many years.
His leadership, knowledge, creativity and insight paved the way for the discoveries and breakthroughs that have been made in the HSP Research Program since 2008.
Alan continues to be closely involved with the program based on an abiding interest in coming up with an effective treatment for people with HSP.